WE DELIVER YOUR HEARTFUL MESSAGES!!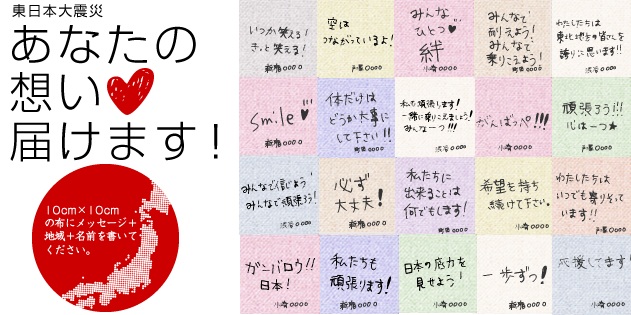 ---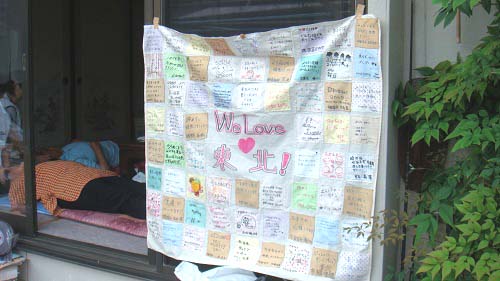 We are actively involved in JILCA activities, which organizes regular visits to the Great East Earthquake affected area.
We give a massage for tsunami survivors there.
---Typical conversations.---
"Where are you from?"
"Yokohama."
"Wow, you came all this way for us. That gives a lot of energy! We have to keep going with good cheer, don't we?"
Every time we have a conversation like this, we can't help thinking...
"All the people are thinking about you and willing to help you!!"
Goods and money are necessary.
But we also believe that that's not enough!!
We do need to deliver our warm heart as well!
So we decided to do it directly!!
If you want to do something for them, but you don't know what to do...
We would like to deliver your thoughts and messages to the survivors. Sure they will get energy from YOU!!
We can do that for you because we visit there regularly.
So WE DELIVER YOUR HEARTFUL MESSAGES.
With your family, friends, childcare center, company or any organizations, all are welcome!
Join us now!!
You need...
* Cloth 10cm x 10cm
* Oil based paint pen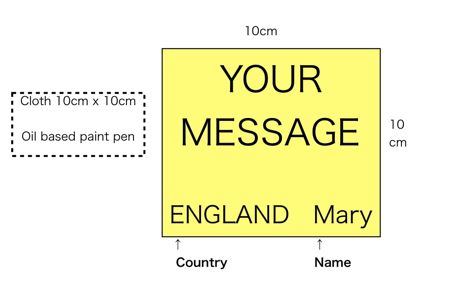 Hand writing by oil based paint pen.
Your address, name and message.
For example...
"We would like to visit Tohoku one day."  or
"We are looking forward to having some nice seafood."
"Please relax and take it easy"
"I was so moved because Tohoku people have a real strength."
"I feel we need to be connected to get better."
Illustrations are welcome!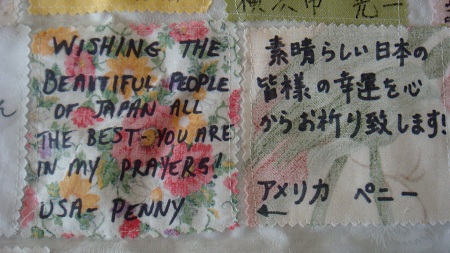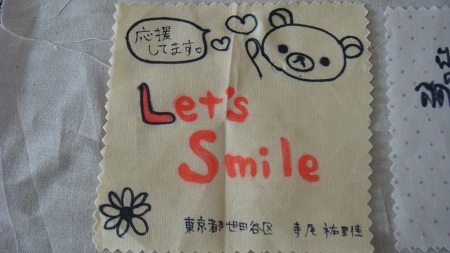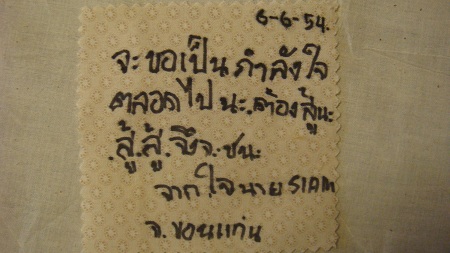 ・Any cloth will do.
It would be appreciated if it is easy to sew. (denim is too hard, nylon or rayon is too soft)
You can cut from your old clothes if you like.
・Please PRINT your name and address. (country)
・Name can be either your real name or nickname.
We sew them together and make a big one, and deliver to the area.
We use the message cloth as a rug for a waiting room or put it on the board, so that everyone can see.
We would give it away when we are asked.

<The receiver's address>
Natural Dolphin "we deliver your heart" project
Lune gyo-en plaza 408
1-24-7 Shinjuku
Shinjuku-ku Tokyo 160-0022 JAPAN
Next deadline: Saturday, 1st October, 2011
<The Place we deliver>
・Kesenuma-oshima Miyagi prefecture
・Yamada-machi Iwate prefecture
Message for the town is also welcome.
We are extending our activity area toward the future.
<Information about OSHIMA>
"Oshima" is an island which is located 20 minutes ferry ride from Kesen-numa in Miyagi prefecture.
They lost their own ferries, so they've been using ferries which came from Hiroshima since the earthquake.
There are a lot of beautiful places such as "Kugunari-hama" (Kugunari-beach) and the top of Mount Kame.
We can enjoy beautiful nature by "uninhibited island" activity or raft cruises.
There are more than 30 accommodation facilities in an area of 9.05 square kilometers. This shows that tourist industry was quite big in the area.
<Information about YAMADA-machi>
Yamada is a beautiful town which surrounded by mountains and sea. The earthquake had serious effect on the town, but it' has never lost its beauty. We can still easily imagine how beautiful it used to be.
Town of Yamada is very famous for seafood and mountain products.
*Salmon, salmon roe, scallop, seaweed
*Shiitake mushroom, Matsutake mushroom
There are two officially recognized "SHIITAKE MASTER" in Yamada. (Only three masters in the whole country)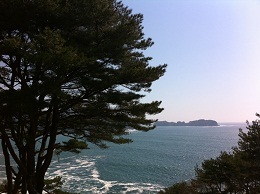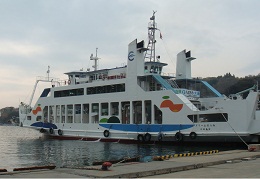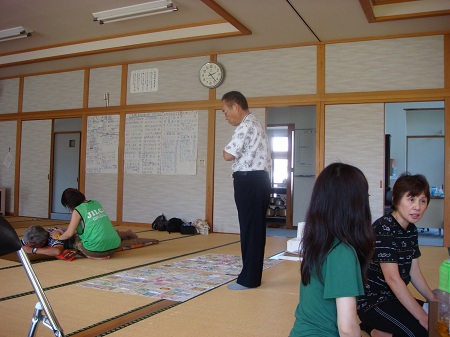 2011-09-12 11:17